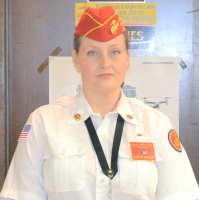 Sarah Callen, Oregon Department Sergeant at Arms, was recently honored for her continuous display of exemplary volunteerism and her ready support of her fellow veterans and the community of Klamath Falls with the presentation of a flag flown over the U.S. Capitol. Callen is a member and officer of Crater Lake Detachment #373.
The flag and award were presented at the request of the Honorable Cliff Bentz, Oregon's Second District representative of Congress. The award was presented to Callen at the Veteran's Advisory Board meeting, where Callen serves as the Marine Corps League representative, by Wyndess James, the veteran liaison for Congressman Bentz.
Specifically, Callen was recognized for her involvement with the Marine Corps League, Mission 22, the Veterans Advisory Council, the Non-Commissioned Officers Association, Toys for Tots, Marine Corps League Scholarship Foundation, WWII Memorial restorations and many other service groups.
Callen also provides holiday meals to elderly, homeless veterans and active duty servicemembers who are not able to provide for their families.